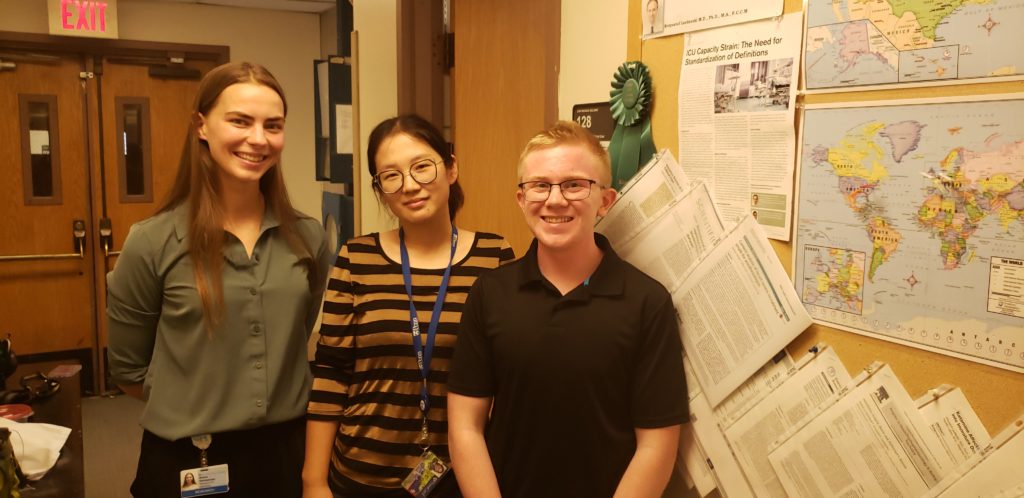 Da Liu is an attending gynecologist at China Medical University. She graduated from Beijing Medical University with MD degree. She joined Dr. Laudanski's lab as a visiting scholar in January 2019. Her goals are to increase knowledge, acquire laboratory skills, and prepare for the development of independent research projects. She is independent and works well in a dynamic environment. She is particularly skillful in the coordination of several tasks requiring a variety of skills and values a team spirit.it.
Briana Heintzelman is currently a junior at Drexel University's Honor's and Graduate colleges, pursuing a dual BS/MS degree program in biomedical engineering, with a concentration in tissue engineering and a minor in both neuroscience and biophysics. Fields of particular interest to her include neuroscience, mitochondrial energetics, and MRI physics. Briana's most recent research involvement was at the Children's Hospital of Philadelphia, studying novel imaging biomarkers in autosomal recessive polycystic kidney disease (ARPKD) patients where she investigated applications of the quantitative measurements produced by the diffusion weighted imaging and T2 imaging MRI techniques. Additionally, Briana has recently begun a certificate program in Clinical Research through the CCEB at the University of Pennsylvania's Medical School and she is looking forward to utilizing her new knowledge while learning from Dr. Laudanski and his team in the KFL lab.
Samuel Beane is currently an undergraduate student at Drexel University, and is studying to earn a Bachelor of Science in Biology. He has not picked a concentration yet, but he is very interested in disease research and the field of genetics. Previously, Samuel was a research assistant at Dr. Saunders' Lab where he investigated the effects of Guanine Quadruplex mediated regulation of the amyloid precursor protein gene expression in Alzheimer's disease. Here he was able to run laboratory procedures, both independently and collaboratively with other lab researchers. Additionally, Samuel Beane took part in the SEA-PHAGES course at Drexel University. This was a year long laboratory class that allowed him to gain further knowledge on genetics and bacteriophages, as well as learn higher level laboratory and computer techniques. He is excited to join Dr. Laudanski's laboratory team as a research assistant and gain more real-world experience in this field of study.
Michael Di Martino is a senior at the University of Pennsylvania's School of Arts and Sciences majoring in Biology with minors in Chemistry and Theater. He joined the Laudanski lab in August 2018. Before transferring to Penn in that same year, he worked on synthesizing novel organic compounds under Dr. Daniel Bercovici (Cal Poly SLO) and Dr. Matthew Cain (University of Hawaii at Manoa), assessing the physician workforce of his home state of Hawaii under Dr. Kelley Withey (John A Burns School of Medicine), and modeling a nonlinear chemically-dynamic system under Dr. Joanna Aizenberg (Harvard). Michael currently uses his diverse research toolkit to design microfluidic devices for biosensing and single-cell studies, conduct a qualitative assessment of teleICU utilization, and assist with various projects across disciplines in the lab. After graduating, Michael plans to pursue a career as a physician scientist investigating genetics in the context of precision medicine.
Matthew DiMeglio is a medical student at Philadelphia College of Osteopathic Medicine in their DO/MBA program with the Haub School of Business at Saint Joseph's University. His fields of interest include the impact of critical illness on the immune system, clinical decision making, and the economics of healthcare. Matt graduated magna cum laude from Saint Joseph's University in 2015 with a double major in biology and classics. While at SJU, he worked in population genetics research laboratory where he completed an undergraduate thesis on geographic and temporal genetic variation in Drosophila suzukii. During his tenure in the Laudanski lab, he has published over 25 articles and abstracts. Matt's current projects include medical-decision-making in the ICU and assessing the impact of physician migration on health outcomes. After medical school, he plans to pursue a residency in internal medicine and a career in academic medicine.